DIY grapefruit water with Yacon Syrup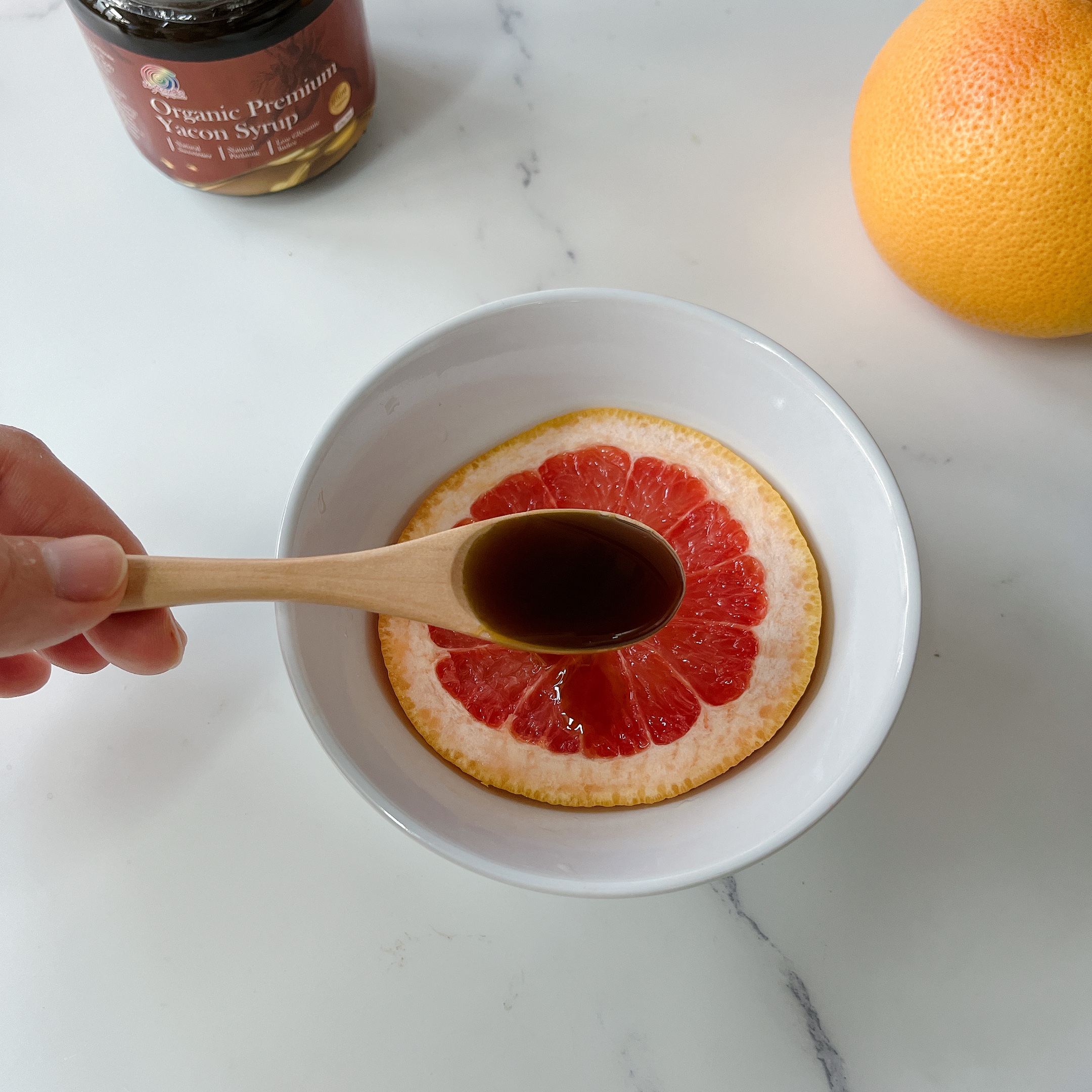 100% Organic Premium Yacon Syrup

Net: 250g
MyRoots Yacon Syrup is USDA Organic (100%),EU Organic, NSF HACCP, HALAL and Control Union Fair Choice (Social and Fair TradeStandard) Certified
It is the only raw, organic, natural,low calorie, and low glycemic sweetener available.
Healthy life never means tasteless life. It's a prebiotic made from Yacon which grows in Peru, used as a sugar substitute to keep your body healthy and improve your digestive system at the same time.
The sweet part of the plant is the root and it contains Fructooligosaccharides(FOS), a type of soluble fiber. Yacon is sometimes called the Peruvian Ground Apple. The root can be sliced and eaten raw. It tastes a bit like an apple but sweeter. The tuber is ground down to extract the juice which is then heated to reduce the moisture content. The syrup has a very nice caramel taste and is about half as sweet as honey or maple syrup. It comes from the Yacon from the Andes in Peru. This is ground down to extract the juice. The moisture is evaporated to produce the syrup. In order to qualify as a raw sweetener, the temperature during production must not exceed approx. 40℃.
The FOS sugars in Yacon are not fully digested. They provide only about one third the calories of sugar. The body treats them as soluble fiber and they pass into your digestive system where they promote the fermentation of beneficial bacteria and enhance the movement of the digestive system. Another great benefit is its low glycemic index, making it suitable for people concerned about blood sugar and cholesterol.
Benefits:
1. Amazing natural sweetener
2. Prebiotic and contains useful soluble fiber
3. Suitable for people concerned about blood sugar
4. Low calorie and low glycemic index
5. High in antioxidants
6. For weight loss purpose
7. Appetite suppression and increased metabolic rate
Direction to use:
direct consumption or as an ingredient in salad dressing, bakery, desserts and pastries. As a low glycemic sweetener in smoothies, beverages, chocolate, energy bars. Or simply take it as a prebiotic sweetener.
Disclaimer:
「This product is not registered under the Pharmacy and Poisons Ordinance or the Chinese Medicine Ordinance. Any claim made for it has not been subject to evaluation for such registration. This product is not intended to diagnose,treat or prevent any disease. 此產品沒有根據《藥劑業及毒藥條例》或《中醫藥條例》註冊。 為此產品作出的任何聲稱亦沒有為進行該等註冊而接受評核。此產品並不供作診斷、治療或預防任何疾病之用。」